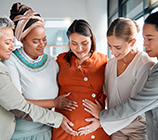 SaferCare Texas: 2023-25 CHW Older Adult Care
According to the CDC, older adults (CDC, 2020) are at risk for low health literacy and thus, do not seek preventive care or follow-up on suggested care. In fact, 71% of adults older than age 60 have difficulty in using print materials, 80% have difficulty using documents such as forms or charts, and 68% have difficulty with interpreting numbers and doing calculations as assessed by the National Assessment of Adult Literacy (NAAL, 2003). This problem is further complicated by growing social isolation among older adults as well as limited digital literacy, lagging behind the rest of the population in having the means and ability to access the Internet (CDC, 2020). "The Center for Disease Control describes loneliness and social isolation as 'serious public health risks.' Nearly 1 in 4 adults aged 65 and over are considered socially isolated, and nearly 1 out of 3 adults over 45 feel lonely. Social isolation increases the chance of premature death and rivals the risks of smoking, obesity, and inactivity" (CDC, 2020).

Age brings a higher risk of chronic diseases, such as heart disease, type 2 diabetes, arthritis, and cancer, which are the nation's leading drivers of illness, disability, deaths, and health care costs. Alzheimer's disease and other dementias are most common in adults 60 and older, and the risk increases with age. This course teaches CHWs clinical preventive services where they can refer people/clients to help prevent disease or find disease early, when treatment is more effective.
Target Audience
This activity is intended for community health workers.
Learning Objectives
When you complete this module, you will be able to:
Examine a variety of issues impacting older adult care and providing a bridge to healthcare that emphasizes respect and dignity.
Describe a variety of hard and soft interactive education methods for different learning styles and ages.
Implement education methods to improve knowledge and/or change behavior.
CHW Competencies covered 
Knowledge Base  - 1.0 hour
Communication - 0.5 hour
Disclosures
In accordance with the appropriate accrediting bodies, all planners, teachers, and authors with control over activity content are required to disclose to the provider any relevant financial relationships (those held by the person, currently or within the last 24 months) with ineligible interests. Accredited providers are required to provide this information to learners before the start of an activity. The University of North Texas Health Science Center at Fort Worth Division of Academic Innovation's office planning team nor the subject matter experts have anything to disclose.
Primary Authors

Teresa Wagner, DrPH, MS, CPH, RD/LD, CPPS, CHWI, DipACLM, CHWC
Associate Professor, Health Administration & Policy, School of Public Health
Associate Professor, Personalized Health & Well-Being, School of Health Professions
Interim Director and Clinical Executive for Health Literacy, SaferCare Texas
Director, Texas State Certified CHW/CHWI Training Program
University of North Texas Health Science Center at Fort Worth
Bobbi D. Bratton, MSN, APRN, FNP-BC, CHWI
Clinical Executive, SaferCare Texas
University of North Texas Health Science Center at Fort Worth   






 
Kate Taylor, DNP, FN-C, CPPS, FNAP
Assistant Dean of Clinical and Outreach Affairs, College of Nursing
Adjunct Faculty, Texas College of Osteopathic Medicine
Clinical Executive, SaferCare Texas



  
Instructional Design
Brenda Wilson, MS, CHCP
Senior Instructional Designer
CE & Assessment Department, Division of Academic Innovation, University of Texas Health Science Center at Fort Worth
Accreditation Statements
Community Health Workers
This activity is State Certified for 1.5 credits for community health workers.
Certificate of Attendance
The University of North Texas Health Science Center at Fort Worth certifies this activity for 1.5 hours of participation.
Available Credit
1.50

Community Health Worker (CHW)

1.50

HSC Participation
Required Hardware/software
This activity is best experienced using the most current browser (or one back) of Firefox, Chrome, Safari, Internet Explorer, or Microsoft Edge. For all activities featuring audio, you must have a sound card and speakers. To view graphic images and references that appear in separate "pop-up" windows, you must have session cookies enabled on your computer. Adobe Acrobat Reader may be required for certain activities.
Accessibility Statement
If you require special assistance to participate in this activity, please call (817) 735-2539 or email: register@unthsc.edu. An Equal Opportunity University.
Disclaimer
All information contained within this activity is intended for educational purposes only. All healthcare professionals are encouraged to consult other sources and confirm the information contained in this site. No single reference or service can take the place of medical training, education, and experience. This website does not define a standard of care, nor is it intended to dictate an exclusive course of management. This information should not substitute for a visit or consultation with a healthcare provider.
Funding
This training was supported by the National Institute on Minority Health and Health Disparities of the National Institutes of Health under Award Number U54MD006882. The content is solely the responsibility of the authors and does not necessarily represent the official views of the National Institutes of Health.